CH 'PR' Enriquez' Apache Warrior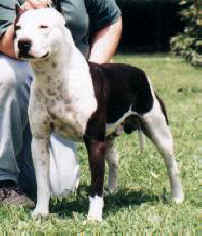 Sable & White; DOB 10-4-94
Apache is from the first litter we bred. He is the sire of Maverick, CJ, Mickey, Judy, and Bing. Apache displays great temperament and conformation, which he evidently passed on to his puppies.
Apache currently has two legs towards his Grand Championship.
Apache is available for stud to approved bitches.
Pedigree
1st generation
2nd generation

3rd generation

SIRE:

GR CH 'PR' BULLSEYE MDNT PANTHER

SIRE:

CH 'PR' NOBUL BRUTUS BEEFCAKE

S: 'PR' CULLISON'S BUSTER JR
D: GR CH DYNAMO'S PANDA-MONIUM
DAM:

GR CH 'PR' TRUEGRIT SAVANNAH

S: GR CH 'PR' TUFFTOWN PALOOKA
D: GR CH 'PR' LAR-SAN SCARLET O'HARA
DAM:

CH 'PR' ENRIQUEZ' TRI C TRIBE TT CGC

SIRE:

GR CH 'PR' LAR-SANS WATCH AMIGO OF BRISON

S: GR CH GARRETT'S REVELATION
D: HERRING'S CANDICE
DAM:

ENRIQUEZ' SILVER NIKKI

S: HOWELL'S BARON VON RED
D: 'PR' AGUILAR'S SAMANTHA