CH 'PR' Lar-San Kisme Soaring High
Co-Owned With Sandy Comer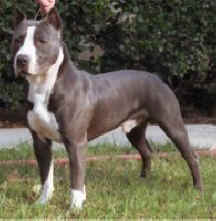 Blue & White; DOB 11-2-99
BlueJay is the newest addition to our family. He is AKC/UKC registered, and is the first in our line of AmStaffs.
We are very proud of BlueJay for becoming a UKC champion after only two and a half short months and currently has 1 leg towards his grand championship. A great big thank you to judges Lynn Martin, Barbara Marin, & Dick Vail for recognizing and awarding BlueJay's wonderful conformation and temperament with majors.
We would also like to say "Thank You!" to Sandy Comer (Tia Sandy) for giving us the opportunity to own and love this beautiful boy.
Keep an eye out for BlueJay in both the UKC and AKC rings.
Pedigree
1st generation
2nd generation

3rd generation

Sire:

CH 'PR' Eurythmic's Nevada Kisme Cobalt

SIRE:

CH York's Nevada Blue Diamond

S: CH York's Ruffian Gator
D: 'PR' York's Blue Shadow Dancer
DAM:

Eurythmic's Wallflower

S: Wood's Noble O'Eurythmic
D: Randall's Stargazer
Dam:

Lar-Sans Kisme for Gypsy

Sire:

CH Gaff's Limited Edition

S: Perdues Cold Shot
D: Hot Shot's Gaff Ali
Dam:

CH L'San Cabincreek Diamond Mystic

S: Our gangs CA. Slick Willie
D: Cabin Creek Coto Valley Girl